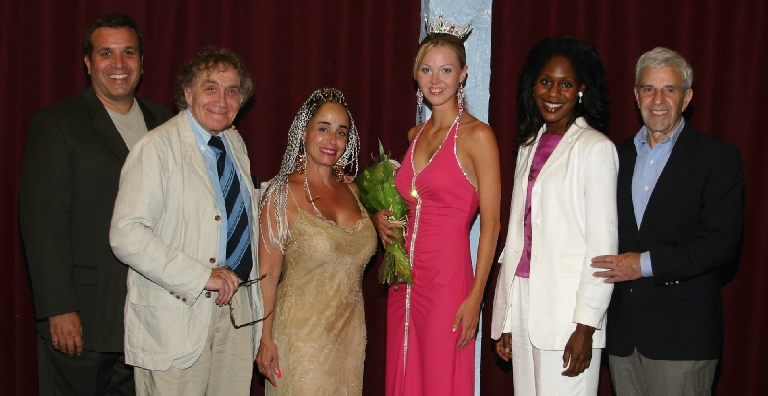 Miss Apple Valley 2006
with the panel of 2006 Judges, left to right:
Mark Bolger
,
Jerry Kauffman
,
Terry Licata Braunstein
, (Rebecca),
Jennifer Caudle
,
David Rosenbaum
.
Our 2006 Judges' Panel — again, left to right:
Mark Bolger
Mark Bolger appeared in his first radio commercial at the age of 5. Still some of the best work he has ever done! He worked part-time on the radio while still in High School which he gives as his reason for poor math scores. Mark's first celebrity interview was the late Bob Hope when he performed here in the Valley back in the late 70's.
Mark Bolger has been on the air full time in the Hudson Valley since 1981 and hosting the morning drive show since 1986. I know that sounds old, but remember he started as a child in this business.
Mark is the winner of the New York State Broadcasters award for an on air stop smoking show which had listeners quiting smoking by any means possible, including cutting up their cigarettes with chainsaws! He is also a multiple winner of Best Radio Personality in the Poughkeepsie Journal, Times Herald Record and Hudson Valley Magazine.
Mark Bolger currently hosts the morning show along with Kimberly Kay on Star 93.3 from 5:30 till 10:00 AM weekdays.
Jerry Kauffman
Jerry Kaufman started his career shortly after he graduated from NYU with a degree in English Literature and Theatre Arts. He began as a production assistant for John Frankenheimer in live action television. Later, he was commissioned by Rodale Press to write and direct a series of four 15-minute films on New York City architecture. His one – hour documentary on Carnegie Hall, "Fortress", won critical acclaim, and he received the coveted Cine Golden Eagle, the highest award given by the Council on International Theatrical Events, for his dance film, "Exorcism".
His commercials have won more than a dozen CLeos. Award-winning director of commercials, Jerry Kaufman has created hundreds of masterpieces. His impeccable timing and knack for comedy dialogue sparked a revolution in commercial style after his "Custodian" spot for Spic 'n Span and "Braces" for Colgate toothpaste demonstrated that commercials could tell a sensitive and poignant story in sixty seconds.
In 1972 he opened his own shop, Jerry Kaufman Productions. Over the next decade, this fully staffed company turned out over 1,000 spots, for clients such as Proctor and Gamble, Bristol Meyers, 7-Up, Burger King, Eastman Kodak, General Foods and Prudential Insurance, and ad agencies like Young and Rubicam, BBD&O, Foote Cohn & Belding, Grey, Wells Rich Green and Ted Bates. His skill with actors such as Charlotte Ray, Bernadette Peters, Dom Deluise, Susan Sarandon and Judd Hirsch created a host of memorable gems. He is equally at home in a studio or on a remote location using multiple cameras and helicopters. He has staged car crashes for Prudential and directed O.J. Simpson for Hertz.

Terry Braunstein
Terry Licata Braunstein is a full professor of theater and dance at a college in the Buffalo area. She received an associate's degree in music, a BA in theater and music with a minor in voice and piano and a Master's degree at the University of Buffalo where she wrote her own major in theater and dance. She received the best original dancer of Buffalo award and has been affiliated with the Miss America Pageant for 20 years. She has been seen in over 20 motion pictures including "Raging Bull", "Buffalo 66", "The Natural", "The Rose", "The Fan", and most recently has been seen in episodes of "Law and Order". Terry has also taught modeling in the Buffalo area, and was the lead in the multi-million dollar "Talking Proud" advertising campaign to promote the Buffalo area. She lives in Buffalo with her husband and two sons and is proud to be a Buffalonian.

(Rebecca Kappler - Miss Apple Valley 2006)

Jennifer Caudle
Dr. Jennifer Caudle, D.O., is a cum laude graduate of Princeton University. She received her Doctor of Osteopathic Medicine degree from the University of Medicine and Dentistry of New Jersey and is completing her medical residency in Pennsylvania.
As Miss Iowa 1999-2000, Jennifer competed in the 1999 Miss America Pageant, receiving the prestigious Bert Parks Talent Award for her Cello performance.
Jennifer is the founder of Jennifer Caudle Enterprises, a public speaking and consulting firm that has been in operation since 1998. Through her company, Jennifer presents nationally acclaimed Anti-bullying & Achievement workshops to students, parents and educators at schools throughout the country, and has spoken to over 40,000 audience members. As a public speaking and interview skills coach, Jennifer trains business professionals and pageant contestants alike on how to master the interview and succeed at the podium.
Jennifer's professional experience includes previously working at MTV Networks in New York City, and performing Cello in orchestras and string ensembles throughout New Jersey and Pennsylvania.
David Rosenbaum
David Rosenbaum has been a professional Actor since 1961. His New York credits include "Awake and Sing" with Tovah Fedshuh and Stephen Lang, "Ghetto", at the Circle in the Square, "Oh Calcutta", at the Belasco theater, "True West", at the Cherry Lane, "The Cave Dwellers" (Geraldine Fitzgerald), "Goodnight Grandpa" (Milton Berle) and "America Hurrah". He created the role of Phil Stein in the award winning Off Broadway production of "Family Business" and had performed in many New York theaters including the Public Theater, Manhattan Theater Club and the Circle Rep.
Regional Theater credits include five productions of Lanford Wilson's "Talley's Folly". He's appeared at the Cincinnati Playhouse, Virginia Museum Theater, The Portland Stage, The Virginia Stage and the Syracuse Stage. He appeared at the Woodstock Playhouse in three different productions: "The Boys in the Band", "The Sunshine Boys", and "Talley's Folly".
He also played Dr. Friedman on ABC's "Loving". On radio, Mr. Rosenbaum narrated the BBC Tanglewood Weekend documentary about the author Tim O'Brien: "If I Die in a Combat Zone".
He has worked with a variety of actors including Hans Conried, Bill Devane, Al Pacino, Menasha Skulnick, Shirley Booth, Bob Cummings, Tovah Feldshuh, Bonnie Bedelia, Amanda Peet, Milton Berle, Mark Medoff, Sam Levene, Molly Picon, Clarence Williams III, Viveca Lindfors, Milt Kamen, Geraldine Fitzgerald, Bill Macy and Melanie Griffith.
Feature Films include "The Imagemaker" with Michael Nouri, Mr. Klausman in Sidney Lumet's "A Stranger Among Us" with Melanie Griffith and he recreated his role of Phil Stein in "Family Business" with Milton Berle on the PBS series "American Playhouse".
For the past fourteen years he's been seen in the recurring role of the Hon. Alan Berman on NBC's "Law and Order".
He is Founder and Artistic Director of the Kingston Rep., Inc.

Sue McConekey (Alternate Judge — not pictured)
Susan McConekey began her affiliation with the Miss Ulster County program in 1966 as Orientation Coordinator. Throughout the years she has remained involved in whatever capacity she was needed. Both of her now adult daughters competed in the program resulting in her eldest daughter, Christine, placing as a runner-up in 1983 and her youngest, Alison, winning the title Miss Ulster County 2002. Sue and her husband own the A. Carr and Son Funeral Home in Kingston where she is both office manager and Vice-President. Sue McConekey is a retired Kingston City Councilwoman and Ulster County Legislator. She has volunteered for many boards throughout the area. Currently, she sits on the Board of Trustees of the Ulster County Community College and also serves as secretary. In her off time, Sue enjoys time with her children and grandchildren.

All text, images, video, etc. at MissUlsterCounty.com are
© Copyright 2000-2022 Miss Ulster County Scholarship Program
unless credit specifically stated otherwise.
You may contact the Directors with questions regarding the Miss Ulster County Pageant,
or contact the Webmaster regarding this web site.
Hosting and Maintenance compliments of...
Kropf.Computer Services, Inc.
"Keeping business plugged in...
...to the Whole - Wide - World!"
Thanks to Erica Stopczynski for the original design.
Thanks to Stuart Williams (New York State Field Director) for most of the photographs.
This page last updated at 17:22:55 EDT on August 11, 2005.